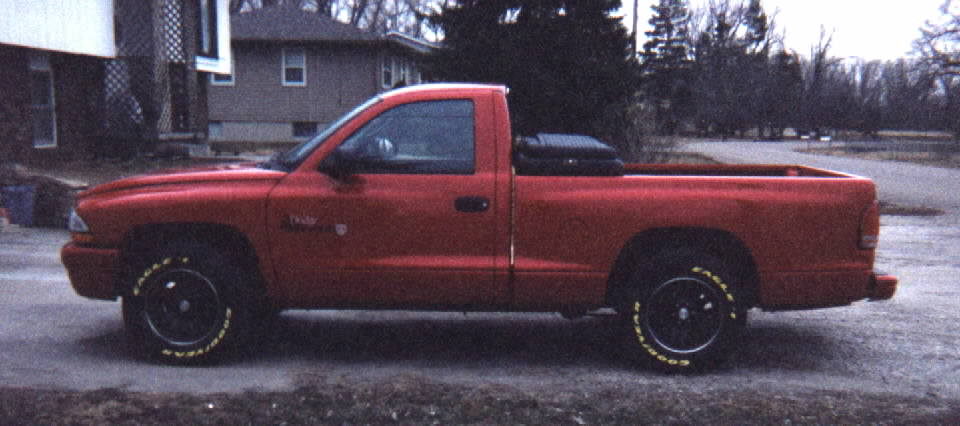 10:23 AM 6/13/2001
Dodge on track with Motorsport packages
TIM SPELL
Copyright 2001 Cars & Trucks
Collectors of NASCAR racing memorabilia can do a lot better than a cap, T-shirt or die-cast model. They can cruise the streets in a Dodge Dakota, Neon or Intrepid that clearly echoes the image of a NASCAR racing vehicle.
These are dressed with special Dodge Motorsports Edition packages. Offered in limited numbers of 5,000 for each vehicle type, the limited-edition Dodges are beginning to roll into dealerships. They are part of an effort to tie the charisma of Dodge's Motorsports image with its production models.
"We've tried to make the NASCAR program the focus of a lot of marketing for the entire Dodge brand," said Dave Elshoff, Dodge Motorsports spokesman.
Motorsports Edition packages are available on all trim levels and add $375 to $865 to the price. Dakota 4x4s are the only models not offered with the package.
These special-edition upgrades turn ordinary Dodges into extroverts with Dodge Motorsports insignias on front doors and windshields, distinctive floor mats, and NASCAR-inspired tires and aluminum-alloy wheels. These wheels are gloss black and feature five split spokes, wide spaced for a view inside the wheel. Tires are high-line Goodyear Eagle radials that stand out with raised yellow lettering. On Dakota Club Cab Sport 4x2 test truck, the special package bumped tire size from the regular P215/75R-16 to P255/65R-16.
"This styling is reminiscent of the Winston Cup cars in that they feature blacked-out wheels and the yellow-lettered Goodyear Eagle tires," Elshoff said.
These wheels and tires offer an eye-pleasing contrast with the tester's vibrant red paint. Exterior colors for the special-edition Dodges are red, black and silver.
On the Dakota and Neon, the list of special features includes additional elements. Dakota's grille is a silver cross-hair variety, inspired by the trucks of the NASCAR Craftsman Truck Series. Neon gains the interior distinction of a color-keyed instrument panel.
A bonus is a Track Bag/Cooler, which isn't available for retail sale. This exclusive pack is stuffed with goodies created to appeal to motorsports enthusiasts. "Track pack" contents include: a soft-sided beverage cooler; gift-boxed, limited-edition, 1:24th-scale race car; custom Tasco binoculars; 46-by-57-inch, three-color afghan; insulated water bottle; automatic-open, vented umbrella; lapel pin; professional stopwatch in commemorative tin; barrel can cooler; "Dodge Returns 2001" red twill cap; autograph pen; red, adult-size poncho; "Different to the 10th" poster; and fabric pit-pass/credential holder.
While Motorsports Edition packaging is more of a cosmetic enhancement, Elshoff suggests a pairing with Dodge's R/T package for performance more in sync with the appearance. Of special note is the Dakota R/T, a compact pickup stuffed with a 5.9-liter V-8 that cranks out 250 horsepower. Giving it extra zip is a large-bore, free-flow exhaust that also delivers a throaty note. A lowered body, 17-inch tires and suspension enhancements add to the Dakota R/T experience.
The test truck is fitted with a 230-horsepower, 4.7-liter V-8 -- highly recommended for those demanding muscle but want to save money at the dealership and gas pump. Good news for drivers liking to interact with this power -- the 4.7-liter comes standard with a five-speed manual (R/Ts are automatic only). Even paired with the autobox, the 4.7-liter's acceleration is impressive. A bit of rumble from the exhaust nicely factors into the performance feel.
Elshoff's forecast is that Motorsport Edition vehicles will sell quickly. He said they are designated 2001 1/2 models and offered only for the 2001 model year.
"Now's the time to watch for them," Elshoff said. "Once they're gone, they're gone."
NOTE FROM DAN: Actual total production numbers on the Dakota Motorsports Edition was 1280. Very rare indeed.